Terms & Conditions
Overview
The terms "I," "us," "we" and "our" refer to Joel Solomon and his website, Joel Solomon: Clean Money Champion (joelsolomon.org), collectively and individually. The term the "Site" refers to Joel Solomon: Clean Money Champion (joelsolomon.org). The terms "user," "you," and "your" refer to site visitors, customers, and any other users of the site. The term the "Service" refers to online services we may provide, including classes, e-books, products, information from the blog, digital products for sale, etc.
Use of Joel Solomon: Clean Money Champion (joelsolomon.org), including all materials presented herein and all online services provided by Joel Solomon: Clean Money Champion (joelsolomon.org), is subject to the following Terms and Conditions. These Terms and Conditions apply to all site visitors, customers, and all other users of the site. By using the Site or Service, you agree to these Terms and Conditions, without modification, and acknowledge reading them.
Use of the Site and Service
Information provided on the Site and in the Service related to garden design and management and other information are subject to change. Joelsolomon.org makes no representation or warranty that the information provided, regardless of its source (the "Content"), is accurate, complete, reliable, current, or error-free. Joelsolomon.org disclaims all liability for any inaccuracy, error, or incompleteness in the Content. This includes any injury, illness or property damage incurred by users.
Affiliate Disclaimer
Some of the links contained in this website now or in the future are affiliate links. This means that we may receive a commission if you click on the link and make a purchase from the affiliate. We only recommend products and services that we believe to be of high quality, whether an affiliate relationship is in place or not.
Advice
This website is an educational and informational resource . It is not a substitute for working with a financial advisor, money manager or other professional. We cannot guarantee the outcome of following the recommendations provided and any statements made regarding the potential outcome are expressions of opinion only. We make no guarantees about the information and recommendations provided herein. By continuing to use/read/participate in this website you acknowledge that we cannot guarantee any particular results, as results are based on subjective perceptions or factors that are not within our control. Therefore, following any information or recommendations provided on this website are at your own risk. If you need investment advice, you should hire a a financial advisor, money manager or other professional.
Account Creation
In order to use the Site or Service, you may now or in the future be required to provide information about yourself including your name, email address, username and password, and other personal information. You agree that any registration information you are required to give to Joelsolomon.org will always be accurate, correct, and up to date. You must not impersonate someone else or provide account information or an email address other than your own. Your account must not be used for any illegal or unauthorized purpose. You must not, in the use of the Service, violate any laws in your jurisdiction.
Our Intellectual Property
The Site and Service contains intellectual property owned by us, including trademarks, copyrights, proprietary information, and other intellectual property. You may not modify, publish, transmit, participate in the transfer or sale of, create derivative works from, distribute, display, reproduce or perform, or in any way exploit in any format whatsoever any of the Site or Service Content or intellectual property, in whole or in part, without our prior written consent.
Changed Terms
We may at any time amend these Terms and Conditions. Such amendments are effective immediately by us posting the new Terms and Conditions on this Site. Any use of the Site or Service by you after we have posted the new Terms and Conditions means you accept them. We reserve the right to update any portion of our Site and Service, including these Terms and Conditions, at any time.
You acknowledge and agree that it is your responsibility to review this Site and these Terms and Conditions periodically and to be aware of any modifications.
Limitation of Liability
YOU AGREE THAT UNDER NO CIRCUMSTANCES SHALL WE BE LIABLE FOR DIRECT, INDIRECT, INCIDENTAL, CONSEQUENTIAL, SPECIAL, PUNITIVE, EXEMPLARY, OR ANY OTHER DAMAGES ARISING OUT OF YOUR USE OF THE SITE OR SERVICE. ADDITIONALLY, WE ARE NOT LIABLE FOR DAMAGES IN CONNECTION WITH (I) ANY FAILURE OF PERFORMANCE; (II) PERSONAL INJURY, ILLNESS OR PROPERTY DAMAGE. THE FOREGOING APPLIES EVEN IF WE HAVE BEEN ADVISED OF THE POSSIBILITY OF OR COULD HAVE FORESEEN THE DAMAGES. IN THOSE PROVINCES OR STATES THAT DO NOT ALLOW THE EXCLUSION OR LIMITATION OF LIABILITY FOR THE DAMAGES, OUR LIABILITY IS LIMITED TO THE FULLEST POSSIBLE EXTENT PERMITTED BY LAW. IN NO EVENT SHALL OUR CUMULATIVE LIABILITY TO YOU EXCEED THE TOTAL PURCHASE PRICE OF THE SERVICE YOU HAVE PURCHASED FROM US, AND IF NO PURCHASE HAS BEEN MADE BY YOU, OUR CUMULATIVE LIABILITY TO YOU SHALL NOT EXCEED $100.
We are not responsible for the accuracy of comments made by third parties and we not endorse those comments.
Third Party Resources
The Site and the Service contain links to third party websites and resources. You acknowledge and agree that we are not responsible or liable for the availability, accuracy, content, or policies of third party websites or resources. Links to such websites or resources do not imply any endorsement by or affiliation with us. You acknowledge sole responsibility for and assume all risk arising from your use of any such websites or resources.
Indemnification
You shall indemnify and hold us harmless from and against any and all losses, damages, settlements, liabilities, costs, charges, assessments, and expenses, as well as third party claims and causes of action, including, without limitation, attorney's fees, arising out of any breach by you of any of these Terms and Conditions, or any use by you of the Site or Service. You shall provide us with such assistance, without charge, as we may request in connection with any such defense, including, without limitation, providing us with such information, documents, records, and reasonable access to you, as we deem necessary. You shall not settle any third party claim or waive any defense without our prior written consent.
Effect of Headings
The subject headings of the paragraphs and subparagraphs of this Agreement are included for convenience only and shall not affect the construction or interpretation of any of its provisions.
Entire Agreement; Waiver
This Agreement constitutes the entire agreement between you and Joelsolomon.org pertaining to the Site and Service and supersedes any and all prior and contemporaneous agreements, representations, and understandings between us. No waiver of any of the provisions of this Agreement by Joelsolomon.org shall be deemed, or shall constitute, a waiver of any other provision, whether or not similar, nor shall any waiver constitute a continuing waiver. No waiver shall be binding unless executed in writing by Joelsolomon.org.
Governing Law; Venue; Mediation
This Agreement shall be construed in accordance with, and governed by, the laws of the Province of British Columbia as applied to contracts that are executed and performed entirely in British Columbia. The exclusive venue for any arbitration or court proceeding based on or arising out of this Agreement shall be Vancouver, British Columbia, Canada. The parties agree to attempt to resolve any dispute, claim, or controversy arising out of or relating to this Agreement by mediation. The parties further agree that their respective good faith participation in mediation is a condition precedent to pursuing any other available legal or equitable remedy, including litigation, arbitration, or other dispute resolution procedures.
Severability
If any term, provision, covenant, or condition of this Agreement is held by an arbitrator or court of competent jurisdiction to be invalid, void, or unenforceable, the rest of the Agreement shall remain in full force and effect and shall in no way be affected, impaired, or invalidated.
Assignment
These Terms and Conditions bind and inure to the benefit of the our successors and assigns. These Terms and Conditions are not assignable, delegable, sublicenseable, or otherwise transferable by you. Any transfer, assignment, delegation, or sublicense by you is invalid.
Updated: August 2016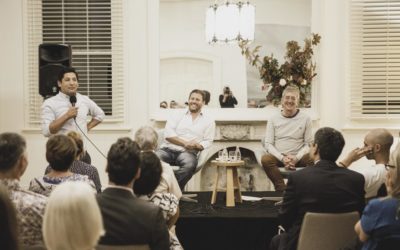 My wife Dana and I were recently hosted in...
read more
Money is charged with symbolic meaning. For some it's the Holy Grail, the central quest of life. Others see it as a mere measure of greed, all of it tainted. For Joel Solomon it is raw energy, a latent force that can be harnessed and channeled for the social, ecological and political transformation the world so desperately awaits. His is a fresh vision, insightful, wise and profoundly hopeful.
–Wade Davis
BC Leadership Chair in Cultures and Ecosystems at Risk Professor of Anthropology

Purchase the Clean Money Revolution here...
...or at your local bookstore.