My wife Dana and I were recently hosted in Australia by a phenomenal group called Small Giants, one of the closest comparisons I've seen to the work Carol Newell and I did with Renewal Partners, Endswell Foundation (the founding funder and catalyst of launching Tides Canada, now "Makeway", a national public charity in Canada), Hollyhock, and Vision Vancouver. Their family office produces both solar funds and green real estate funds. They support important charitable activities. They convene many educational events at their facility 'The White House' in Melbourne. (The 'White House' confusion isn't as fun as it may have been during the Obama Presidency.)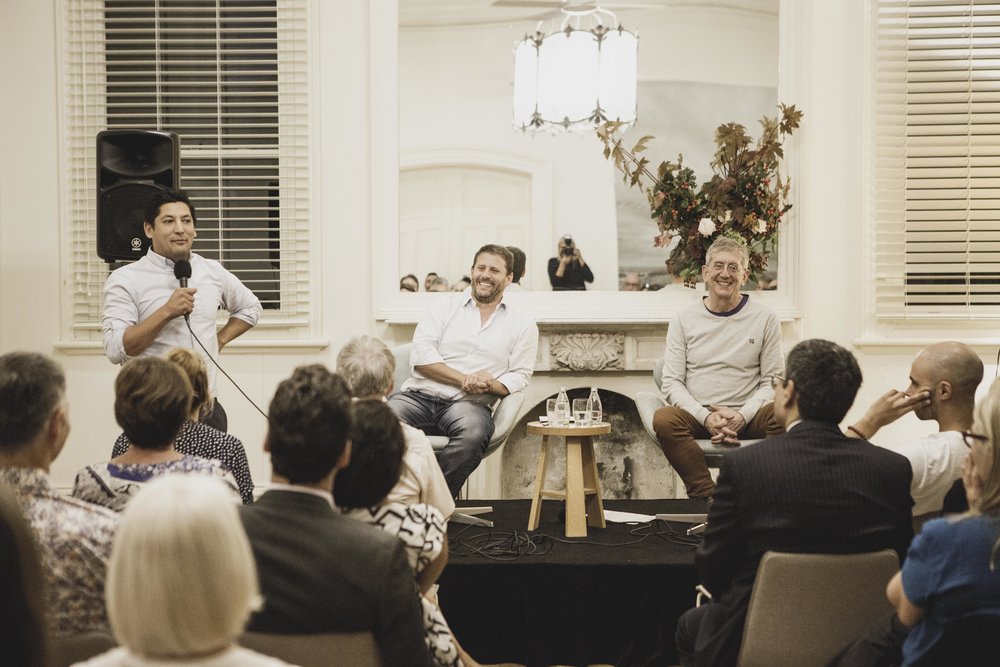 Forward and front-edge, Small Giants has collected a potent mission-driven team. Everybody's smart, turned on, and proud of making new headways in Australia by asking questions about how to continue new advances in aligning your money with your values.
Small Giants make money. Their entire program contributes to society using money as a key tool.
I also learned a lot about the Australian superannuation fund landscape (like pension funds in North America). The Australian superannuation funds I met with were built to enable workers to better align their savings with their values. These tangible ways to express personal beliefs through retirement funds is impressive. It's refreshing to have more options from those who compete solely on return rate.
Small Giants put me on the most rigorous speaking and interviewing tour I've experienced as a new author. One day included four significant talks plus a radio interview!
As we'd get to the next venue, I'd ask my hosts: Danny Almogar and Berry Liberman what I was walking into and what I should focus on. They'd say, "Just introduce yourself and share and we'll see what happens."
I'd walk in a room of fifty super intelligent people keen and attentive to hear what I had to say.
"You've got an hour."
It was such good training!
I met with ethical banks and superannuation funds. We had events at the White House for people interested in the book, or groups of investors. Stage time with Danny in discussion with me was the most fun. The audiences were full of questions, which is so rewarding for a speaker. They were listening!
One day Dana and I attended an annual whole company tour of Small Giants bigger projects. We began with a morning at the Holocaust Museum, that Berry's family had helped build. It was deeply moving. Australia had opened up to quite a substantial number of Jewish refugees. My own family, on both sides, had left Europe for the USA, before World War II happened. Fortunately. The education from an Australian cultural lens, was so rich and meaningful. The entire group sat in circle and shared feelings about it, from our collective stunned and quiet state.
*******
Next we piled onto a big bus.
We toured a huge abandoned warehouse, now a complex, multi-year project of creative mixed uses. It reminded me of an old pet food manufacturing company, Werthan Industries, that Mark Deutschmann and I had bought a small portion of some twenty years ago. I watched the Nashville project, start slow with the new to Nashville type of housing, then become a hugely popular loft development. "Creatives" were drawn to it like butterflies to flowers. The new type space that allowed individuality and unique expression, set a new tone for Nashville.  Small Giants are doing the whole development at once. It will create an important space, but even bigger, these type of projects can set in motion a wave of entrepreneurial culture, whether as small business, activist arts, unique meeting and event space, and a mash up of motivated people driving an important part of the future of Melbourne, and likely, the country.
On Passover, at Danny and Berry's farm, we had an epic evening meal for 30 inspired young farmers in a beautiful old barn with the magic of a modern rustic feast that one can only dream about. The homemade matzahs were the best ever, by a long shot. The alternative service with this impressive group of young Jews, included the six hour feast, plentiful wine, and creative interpretations of stories of liberation and justice. It was so much more inspiring than from my childhood at Uncle Moses and Aunt Lebas' family table. We also went to Barry's mother's home with the whole Liberman family for a second celebration.
The Liberman family must be an institution in Melbourne, with such overt warmth and love. Art collectors, civic involvement, business, and legendary contributions to culture in Australia is part of their legacy. Grandfather had come as a holocaust survivor with nothing, and made a fortune, so now these younger generations are using parts of that fortune-to give back and support many innovative new initiatives.
We have to look after all people. We can't turn the other cheek. We must be involved citizens. Future generations need us on that pathway.
Our ten days in Australia were inspiring and action packed. Danny and Berry were legendary hosts. Dana and I felt so fortunate to have been brought into the midst of such a dynamic model of using money for higher purpose. Our eyes were opened beyond any conception we'd had, of just how robust the clean money thinking is in the country. And, we had a wonderful couple days off to take advantage of our time together in the faraway lands of Oz. We want to go back!